Welcome!



Sidmouth Folk Week

We will be opening the shop stall in the Music Fair at Sidmouth Folk
Week again this year, from the 31st of July to the 7th of August 2015.
We will have plenty of fiddles, old and new, as well as bows, strings,
cases and accessories!

The music fair is in the Blackmore Gardens, near the centre of Sidmouth,
along with the children's events and the dance marquee.
Entry is free to Blackmore Gardens and the music fair,
as well as many other events in Sidmouth!

The stand in Sidmouth will open for the entire duration of the festival,
including the Sunday, Monday and Tuesday!

The shop in Exeter will be open on Monday the 3rd, Wednesday the 5th and
Thursday the 6th of August. We will be closed in Exeter on Friday the 31st
of July and Saturday the 1st, Tuesday the 4th, Friday the 7th and Saturday
the 8th of August. Please call the shop on 01392 433748 to check before
setting out on a special trip to see us in Exeter, or visit us during our
extended opening hours in Sidmouth.

See you there!

Devon Strings in Exeter Living

We are in the April issue of Exeter Living,
in a special shops feature!
You can read the article on page 46 online.

Devon Strings on CNN!

We were filmed for The Revealer, on CNN, recently.
The programme is now available online on the
CNN website.

Please see our Facebook page
for our impressions of this unusual instrument!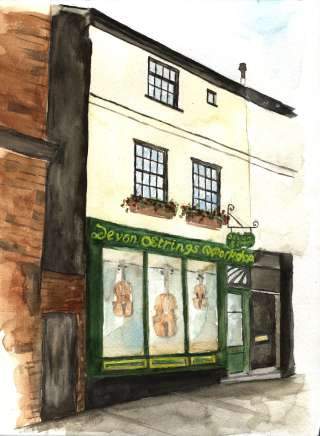 We are a professional violin shop and workshop in Exeter, Devon serving players of all levels.
We offer a good range of violins, violas and cellos, bows, strings, cases, sheet music and accessories suitable for beginners to professionals.
We discount all violin, viola, cello and double bass strings by 10%!
We are professionally trained violin makers, experienced in the repair and restoration of violins, violas and cellos, and also mandolin family instruments. All the instruments that we stock are offered properly set up - with a hand carved bridge, a good quality well adjusted soundpost, well fitted pegs, accurately shaped fingerboard (essential for accurate intonation) and good quality strings.
As well as making, repairing and restoring instruments we also offer a bow rehairing and repair service.
Our opening hours
| | |
| --- | --- |
| Monday | Closed |
| Tuesday | Closed |
| Wednesday | 10 a.m. to 6 p.m. |
| Thursday | 10 a.m. to 6 p.m. |
| Friday | 10 a.m. to 6 p.m. |
| Saturday | 10 a.m. to 6 p.m. |
| Sunday | Closed |
Outside of these hours we are concentrating on restoration work, but can be contacted on 01392 433748.
Thank you for looking!

Jonathan & Rebecca Springall