Welcome!

COVID-19 Update
Wednesday the 6th of January 2021
Following the new national lockdown we are now closed until the Covid infection rate falls and we are allowed to reopen.
Wishing good health to all of our customers and friends.
Take care,
Jon, Becky and James
We are reopening!
Our daughter's self isolation ends tomorrow, Tuesday the 27th of October, we also received her negative test result yesterday! None of us have experienced any Covid-19 symptoms during our voluntary period of self isolation.
We shall be reopening the shop this Wednesday, the 28th of October.
Please feel free to contact us at enquiries@devonstrings.co.uk to make an appointment, or with any queries.
Thank you for your support during this difficult time,
Jon, Becky and James
Temporary Closure
Following a positive test for Coronavirus within our daughter's primary school bubble we haved decided to temporarily close the shop.
By lucky chance our daughter had already been randomly chosen by the government for a Covid-19 test. Depending on the result of this test we may be able to open sooner than might otherwise be expected. Please keep an eye on our website for further updates.
If you have any queries please feel free to contact us at enquiries@devonstrings.co.uk.
Thank you for your patience and understanding,
Jon and Becky
We are currently preparing to reopen the shop on Wednesday the 17th of June at 10am!
We will be open for instrument assessments and repairs, and for the sale of instruments, bows, strings, cases and accessories, using the following measures to ensure social distancing:
Please make an appointment. We will see you by appointment only. Appointments are available from Wednesday to Saturday each week, commencing at 10am.
Please minimise the number of people attending. Children will need an adult to help them. Adults may need one other person to provide a second opinion regarding tone.
Please can you do us the courtesy of wearing a face covering when you visit. We will repay the courtesy. Basic disposable masks will be available if you have forgotten your washable face covering.
Please use the hand sanitiser provided on arrival. If you wish to try instruments or bows, hand sanitiser will be available to use between each instrument or bow.
Please maintain a two metre distance from all those from outside of your own household. As our new shop is so much more spacious than our old one this should not be a problem.
Instruments and bows will be cleaned after appointments. Those that have been tried will initially be tagged, so that we can easily identify those waiting to be cleaned. Please do not pick up an instrument, bow etc... without checking with us first.
If you have not yet visited our new shop at 3 Guinea Street, Exeter, EX1 1BS, you will find the new premises much larger than our little old shop on Bartholomew Street West.
As well as a large showroom we have a separate room for trying out instruments and bows. This means that we should be able to accommodate up to two appointments at a time, while easily maintaining social distancing.
If you will be meeting your teacher at our shop to try instruments and/or bows, please let us know and we will reserve the larger main shop area for you. This way we can all maintain proper social distancing.
Please get in touch to make an appointment, either by phone on 01392 433748 or email at enquiries@devonstrings.co.uk. If possible please provide both a phone number and an email address when making an appointment, in case we need to close unexpectedly.
We look forward to seeing you in our shop again!
Best wishes from us all,
Becky, Jon & James
We have moved!
Wednesday the 31st of July 2019: We finally finished moving out of our old shop just before midnight last night!
Our new shop now needs a lot of organising, but we will be packing up for our temporary relocation to Sidmouth Folk Week today - more details to follow.
3rd - 13th July Devon Strings is moving!
We are moving the Devon Strings Workshop to it's new home at 3 Guinea Street, on the corner of Market Street (off the top of Fore Street). You can find the location of our new shop on Open Street Map.
We will be closed whilst we move, but can arrange appointments. If you would like to arrange to see us please phone 01392 433748 (you can leave a message if there's no reply) or email us at enquiries@devonstrings.co.uk
Please accept our apologies for any inconvenience caused.
Jon & Becky
Devon Strings on CNN!
We were filmed for The Revealer, on CNN, recently.
The programme is now available online on the
CNN website.
Please see our
Facebook page
for our impressions of this unusual instrument!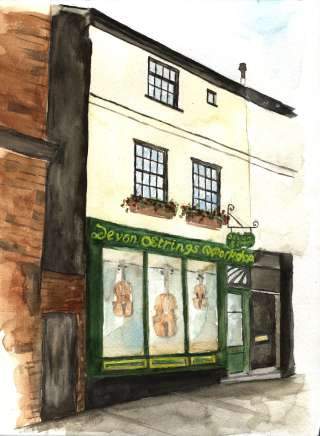 We are a professional violin shop and workshop in Exeter, Devon serving players of all levels.
We offer a good range of violins, violas and cellos, bows, strings, cases, sheet music and accessories suitable for beginners to professionals.
We discount all violin, viola, cello and double bass strings by 10%!
We are professionally trained violin makers, experienced in the repair and restoration of violins, violas and cellos, and also mandolin family instruments. All the instruments that we stock are offered properly set up - with a hand carved bridge, a good quality well adjusted soundpost, well fitted pegs, accurately shaped fingerboard (essential for accurate intonation) and good quality strings.
As well as making, repairing and restoring instruments we also offer a bow rehairing and repair service.
Our opening hours
| | |
| --- | --- |
| Monday | Closed |
| Tuesday | Closed |
| Wednesday | 10 a.m. to 6 p.m. |
| Thursday | 10 a.m. to 6 p.m. |
| Friday | 10 a.m. to 6 p.m. |
| Saturday | 10 a.m. to 6 p.m. |
| Sunday | Closed |
Outside of these hours we are concentrating on restoration work, but can be contacted on 01392 433748.
Thank you for looking!

Jonathan & Rebecca Springall